LinkExchange Member
---

---
Greetings to all Corky and the Juice Pigs fans, and welcome to the original fan site for the Pigs.
---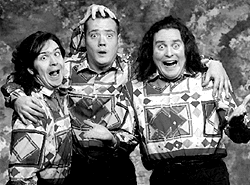 ---

---



Sean Cullen will be producing a sitcom for CBS for Fall 2000 (more)

If you want to link to me I've got a page set up for you to do just that. CLICK HERE
---


Visit Spronk's Aussie Corky Column for ton's of Juice Pig fun!!
---
---
This page is not sponsored or affiliated with Corky in any way.