LinkExchange Member
---
CORKY CENTRAL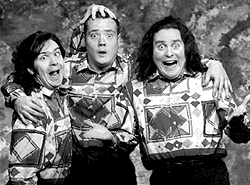 (l-r) Sean Cullen, Greg Neale, & Phil Nichol
---
Welcome to Corky Central, the original fan page for Corky and the Juice Pigs.
Last update was 8/24/98. To find out what's new here, click HERE
---
Join the Corky Central Mailing list for Corky updates!!
---
Here are some extra things besides the usual:

CORKY NEWSLETTER FROM THEIR MANAGEMENT... very helpful.

HOW TO CONTACT THE JUICE PIGS E-mail and snail mail.

ALBUM BUYING INFO... neatly laid out.

SEND ME YOUR CORKY TIPS/ NEWS... & I'll post it.

PAST MONTH'S POLL RESULTS
---
NEWS - FAQ - SHOWS - BIOS - PICTURES - POLL - DISCO - MADTV - MEDIA - LINKS - CHAT - FORUM
---
LINK to Corky Central....
---
---

Visit Spronk's Aussie Corky Column for ton's of Juice Pig fun!!
---
SIGN MY GUESTBOOK.... VIEW MY GUESTBOOK
---
This page is unofficial and is not recognized by Corky in any way.
---
VISIT MY VERY COOL PERSONAL PAGE
---
pork fans served.